Our Workshop
We make servicing and repairs simple. Our ongoing aim is to provide a swift and hassle-free experience when dealing with us, delivering the best prices without compromise. Based in East Bristol on the outskirts of the city, we have our top of the line workshop. Its capabilities see no bound, with the ability to carry out certified servicing, all types of repairs and accessory fitting. Our fully qualified technicians with years of experience under their belt undertake all types of jobs, no matter how big or complicated we can take it on.
Habitation Servicing
Every year, your Caravan and Motorhome requires a Habitation Service. This is its annual check which is essential to keep its warranty in place. Our workshop is AWS approved, which stands for Approved Workshop Scheme. This is the recognised body in the industry which certifies all work we carry out. If your vehicle is serviced elsewhere without this certification, your warranty is void. Even if the vehicles warranty has expired, it's advised you continue annual servicing to build solid history. We offer servicing here in our modern workshops.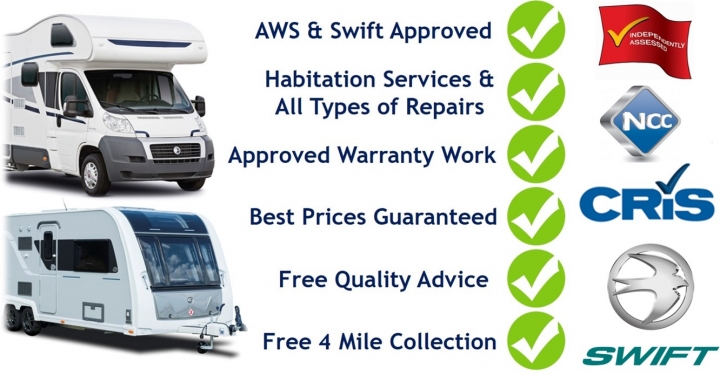 Our Service Prices
Single Axle Caravan: £220.00*
Twin Axle Caravan: £240.00*
Motorhome: £220.00
Full Engine Service: From £285.00
MOT: £95
*caravan habitation service prices are exclusive of whether wheel hub nuts need replacing
Contact Us
If you would like to book your vehicle in or any questions you may have, call us on
You can also email us with any queries: